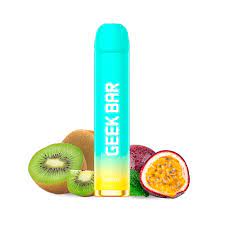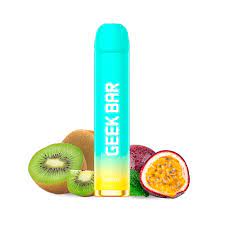 GEEK BAR MELOSO KIWI PASSION FRUIT
Take a tropical journey with the GEEK BAR MELOSO KIWI PASSION FRUIT . Revel in the tantalizing blend of zesty kiwi and sweet guava, transporting you to a dreamy tropical paradise with every puff. Dive into an immersive experience where flavor meets satisfaction.
Characteristics:
Capacity: 2ml
Battery: 550mAh
Puffs: 600 approx.
Nicotine: 20mg
Flavor: Kiwi, Guava
Description
Additional information
Description
Introducing the GEEK BAR MELOSO KIWI PASSION FRUIT – a seamless blend of style and function. This standard disposable pod by Geekbar boasts a compact, lightweight design that's not only elegant but also user-friendly. With a radiant metallic base, it stands out in aesthetics and performance. Powered by a 550mAh battery, it houses 2ml of E-liquid, ensuring up to 600 smooth puffs. Its unique three-hole air inlet design at the bottom enhances the vaping comfort, promising an unmatched vaping experience with rich flavors in every inhale.
Additional information
| | |
| --- | --- |
| BRAND | GEEK BAR MELOSO |
| TASTE | FRUITS, GUAVA, KIWI, PASSION FRUIT |
| QUANTITY | 1 Switch |