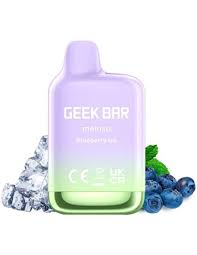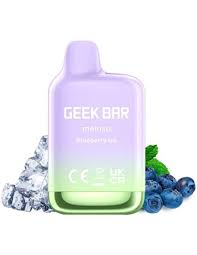 GEEK BAR MELOSO MINI BLUEBERRY ICE
The GEEK BAR MELOSO MINI BLUEBERRY ICE offers a captivating vaping experience with its Blueberry Ice flavor – a blend of juicy blueberry with a cool menthol touch. This matchbox-designed disposable device, crafted by the renowned Geek Vape, provides unmatched convenience. Its compactness ensures it comfortably fits in your hand, making it the go-to vape for nights out or travel. The pastel gradient finish on a metallic base ensures it's as visually appealing as it is functional.
Characteristics:
Capacity: 2ml
Battery: 550mAh
Puffs: 600 approx.
Nicotine: 20mg
Flavor: blueberries ,  ice
Description
Additional information
Description
Pre-filled with 2ml of 20mg Nicotine Salt e-liquid, the GEEK BAR MELOSO MINI BLUEBERRY ICE guarantees a smooth throat hit. Its long-lasting battery ensures continuous enjoyment till the last puff, and with its auto-inhale feature, vaping becomes straightforward – no buttons, no fillings. Once depleted, simply replace with a new one. Beyond the Blueberry Ice, choose from a spectrum of ten flavors, spanning Fruit, Candy, Tobacco, and Soda, ensuring every vape is a fresh experience.
Additional information
| | |
| --- | --- |
| BRAND | GEEK BAR MELOSO |
| TASTE | BERRY, BLUEBERRY, ICE |
| QUANTITY | 1 Switch |