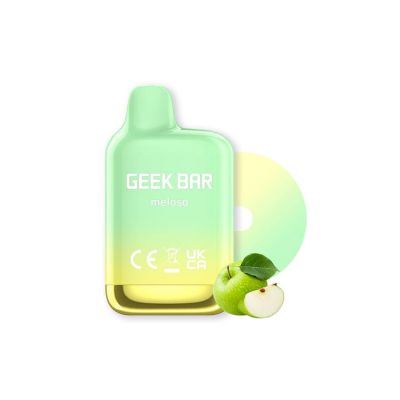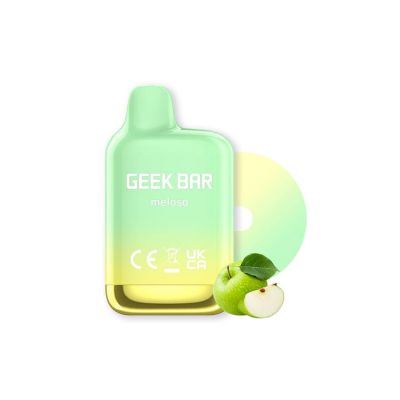 GEEK BAR MELOSO MINI SOUR APPLE
Savor the tangy delight of the Sour Apple flavour in the GEEK BAR MELOSO MINI SOUR APPLE—a captivating blend of crisp Apple and candy sweetness with a sour twist. This Meloso Mini, crafted by the esteemed Geek Vape, stands out with its signature compact 'matchbox' design. Offering seamless portability, it's the go-to device for newbies and seasoned vapers alike, ready to enhance any night out or journey with its compelling aesthetic—a pastel gradient overlaying a lustrous metallic base.
Characteristics:
Capacity: 2ml
Battery: 550mAh
Puffs: 600 approx.
Nicotine: 20mg
Flavor: Sour Apple (Crisp Apple with a candy sweetness and sour exhale)
Description
Additional information
Description
Packed with 2ml of Nicotine Salt e-liquid, the GEEK BAR MELOSO MINI SOUR APPLE ensures a velvety throat feel and swift nicotine satisfaction. Its durable battery promises an elongated vaping adventure, without the fuss of refills or settings adjustments. Upon unboxing, the Auto-Inhale mechanism lets you dive straight into a rich vapor experience. And as the battery winds down, transition effortlessly to a fresh Meloso Mini. With ten enticing Geek Bar flavors ranging from Fruity to Soda, it's an epitome of convenience, always on standby.
Additional information
| | |
| --- | --- |
| BRAND | GEEK BAR MELOSO |
| TASTE | FRUITS, GREEN APPLE ICE |
| QUANTITY | 1 Switch |