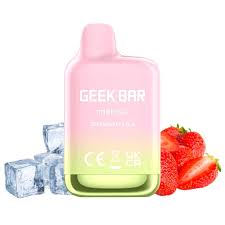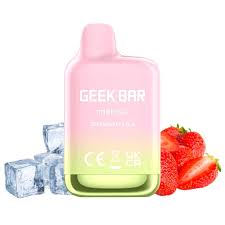 GEEK BAR MELOSO MINI STRAWBERRY ICE
Relish the seasonal delight of the Strawberry Ice flavour in the GEEK BAR MELOSO MINI STRAWBERRY ICE . Every puff delivers a burst of juicy strawberries complemented by a refreshing icy menthol exhale. This Meloso Mini, a masterpiece by Geek Vape, embodies convenience and elegance. Its 'matchbox' design offers unrivaled portability, making it a must-have for both vaping novices and seasoned enthusiasts. With its stunning pastel gradient atop a shimmering metallic base, it pairs visual allure with top-notch performance.
Characteristics:
Capacity: 2ml
Battery: 550mAh
Puffs: 600 approx.
Nicotine: 20mg
Flavor: Strawberry Ice (Juicy Strawberry with an Icy Menthol finish)
Description
Additional information
Description
Every GEEK BAR MELOSO MINI STRAWBERRY ICE is loaded with 2ml of Nicotine Salt e-liquid, guaranteeing a velvety throat sensation and swift nicotine satisfaction. Its robust battery ensures enduring pleasure from each e-liquid drop. Designed for direct use, there's no need for pod refills or coil replacements—just activate with a simple inhale. When the battery nears its end, seamlessly transition to a new Meloso Mini. With an array of ten distinctive Geek Bar flavors, spanning from fruity to soda notes, it promises a versatile vaping experience at your fingertips.
Additional information
| | |
| --- | --- |
| BRAND | GEEK BAR MELOSO |
| TASTE | BERRY, STRAWBERRY, ICE |
| QUANTITY | 1 Switch |