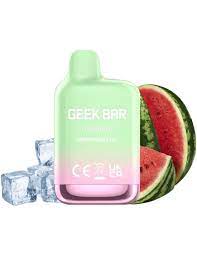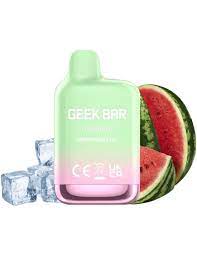 GEEK BAR MELOSO MINI WATERMELON ICE
Experience a rejuvenating blend of flavors with the GEEK BAR MELOSO MINI WATERMELON ICE . This enticing vape offers the succulent sweetness of sun-kissed watermelons complemented by a frosty menthol finish. Perfect for any weather, it's a delightful combination of nature's best. Geek Vape, renowned for their vaping innovations, introduces the Meloso Mini, a 'matchbox'-style vape device. Exquisitely designed with a vibrant pastel gradient over a luminous metallic base, it seamlessly fits in your hand and is a stylish companion on the go.
Characteristics:
Capacity: 2ml
Battery: 550mAh
Puffs: 600 approx.
Nicotine: 20mg
Flavor: Watermelon Ice (Juicy Watermelon with an Icy Menthol undertone)
Description
Additional information
Description
Each GEEK BAR MELOSO MINI WATERMELON ICE is loaded with 2ml of Nicotine Salt e-liquid, ensuring a gentle throat hit and immediate nicotine satisfaction. With a robust battery, you're promised uninterrupted enjoyment of every e-liquid drop. Operating the Meloso Mini is straightforward: no refills, no adjustments, just open and inhale. When the energy fades, swap it out for a fresh one. Offering a spectrum of ten outstanding Geek Bar flavors, including Fruit, Candy, Tobacco, and Soda profiles, Meloso Mini guarantees a trendy vaping experience coupled with rich flavor profiles.
Additional information
| | |
| --- | --- |
| BRAND | GEEK BAR MELOSO |
| TASTE | BERRY, WATERMELON, ICE |
| QUANTITY | 1 Switch |