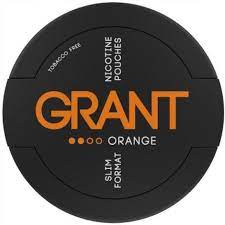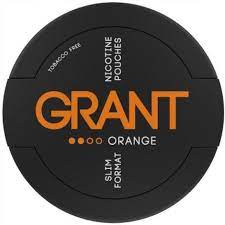 GRANT ORANGE EXTRA STRONG
GRANT ORANGE EXTRA STRONG offers a classic juicy orange flavor, rounded off with a touch of bitter orange peel. This product stands out with its powerful nicotine kick in every pouch. With 27 portions per can, GRANT Orange ensures an extended release of both flavor and nicotine, thanks to its low-drip design. These all-white pouches are free of tobacco, promising no teeth staining and minimal dripping, ensuring a fresh and clean experience.
Description
Additional information
Description
Dive into the world of GRANT ORANGE EXTRA STRONG , where evolution in nicotine satisfaction is paramount. Their offerings promise a discreet, smokeless way to enjoy nicotine, filled with plant fiber and devoid of tobacco. For those passionate about orange or keen to explore, it's a must-try.
How to use Nicopods:


Time of action 5-30min A plate for resorption, on a plant-based basis, to fight smoking habits, is not a medicine.
Do not consume: Persons under the age of 18, pregnant, and people with high sensitivity to nicotine.
Use: lay behind the upper lip for 5-30 minutes. Then spit it out without swallowing. Use no more than one sachet for 2 hours.
NOT A TOBACCO PRODUCT
Additional information
| | |
| --- | --- |
| Weight | N/A |
| Dimensions | N/A |
| BRAND | GRANT |
| TASTE | FRUITS, ORANGE |
| STRENGTH | STRONG |
| FORMAT | SLIM |
| QUANTITY | 1 Can |