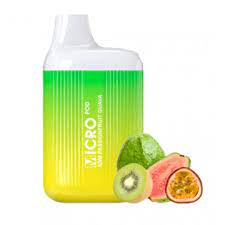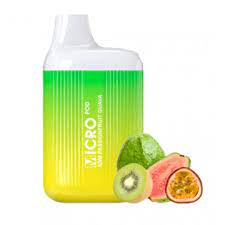 MICRO POD KIWI PASSIONFRUIT GUAVA
Discover the MICRO POD KIWI PASSIONFRUIT GUAVA , your next pocket-friendly vaping companion that requires zero maintenance. The lineup boasts an array of flavors, but the Kiwi Passionfruit Guava stands out with its vibrant tropical essence. Tangy kiwi, aromatic passion fruit, and creamy guava merge, creating a lush, delectable experience. Perfect for both newbies and seasoned vapers, this device is pre-filled with 2ml of nic salt e-liquid, offering a velvety throat hit and up to 600 exquisite puffs. Its simplicity shines – there are no buttons, no settings; just inhale to vape, echoing the sensation of a traditional cigarette.
Characteristics:
Capacity: 2ml
Puffs: 600 approx.
Nicotine: 20mg
Flavor: Kiwi Passionfruit Guava (Tangy kiwi paired with aromatic passion fruit and creamy guava)
Description
Additional information
Description
Each MICRO POD KIWI PASSIONFRUIT GUAVA is crafted to provide minimal vapour, focusing on the MTL (Mouth To Lung) vaping experience. With a 20mg nicotine salt concentration, cravings are satisfied swiftly.
Additional information
| | |
| --- | --- |
| BRAND | MICRO POD |
| TASTE | FRUITS, GUAVA, KIWI, PASSIONFRUIT |
| QUANTITY | 1 Switch |