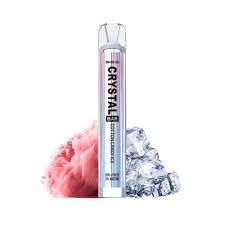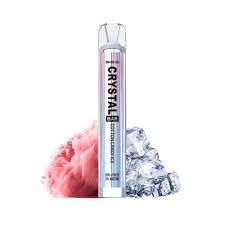 SKE CRYSTAL BAR COTTON CANDY ICE
The Cotton Candy Ice flavor of SKE CRYSTAL BAR COTTON CANDY ICE transports you to a funfair, blending the sweet nostalgia of spun sugar with a menthol chill. This delightful combination is housed in SKE's Crystal Bar 600, a standout in disposable vapes. Dressed in iridescent hues and a crystal-ice body, this device isn't just about looks; each drag emanates a subtle glow. Sleek and lightweight, it's designed for on-the-move vaping, ensuring style and satisfaction are always within reach.
Characteristics:
Capacity: 2ml
Puffs: 600 approx.
Nicotine: 20mg
Flavor: Cotton Candy Ice
Description
Additional information
Description
The SKE CRYSTAL BAR COTTON CANDY ICE , engineered with a durable 500mAh battery and a 1.5ohm coil, offers a remarkable MTL experience. Pre-loaded with 1.6ml of quality e-liquid, its nicotine salt formulation guarantees swift absorption and a creamy throat feel. Ideal for both newcomers and aficionados.
Additional information
| | |
| --- | --- |
| BRAND | SKE CRYSTAL BAR |
| TASTE | SWEET |
| QUANTITY | 1 Switch |