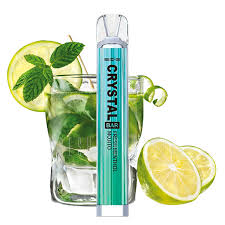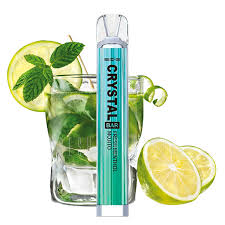 SKE CRYSTAL BAR FRESH MENTHOL MOJITO
Dive into the Fresh Menthol Mojito flavor with the SKE CRYSTAL BAR FRESH MENTHOL MOJITO . This unique blend combines the zesty brightness of lime, the calming sweetness of mint, and a menthol kick, crafting an exquisite all-day vape. It's the Mojito cocktail experience revamped for vapers – a refreshing burst of beachy vibes and invigoration in every puff.
Characteristics:
Capacity: 2ml
Puffs: 600 approx.
Nicotine: 20mg
Flavor: Fresh Menthol Mojito
Description
Additional information
Description
SKE CRYSTAL BAR FRESH MENTHOL MOJITO is the new gold standard in disposable vapes. It exudes style with iridescent shades and a crystal-ice body, making it not only a vaping device but a fashion statement. Each drag is accompanied by a gentle glow from its base. Compact and lightweight, it features a 500mAh battery, a 1.5ohm coil, and is prefilled with 1.6ml of quality e-liquid. This e-liquid, enriched with nicotine salt, offers rapid absorption and a velvety throat sensation.
Additional information
| | |
| --- | --- |
| BRAND | SKE CRYSTAL BAR |
| TASTE | MENTHOL, MOJITO |
| QUANTITY | 1 Switch |