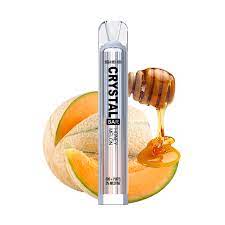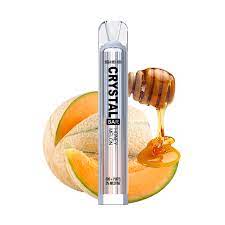 SKE CRYSTAL BAR HONEY MELON
Introducing the Honey Melon flavour for the SKE CRYSTAL BAR HONEY MELON. This delectable blend captures the essence of honeydew melon, offering a delicately sweet and rejuvenating taste. The sheer freshness of honeydew melon ensures a pleasurable all-day vape, making it an absolute treat for fruit aficionados.
Characteristics:
Capacity: 2ml
Puffs: 600 approx.
Nicotine: 20mg
Flavor: Honey Melon
Description
Additional information
Description
The SKE CRYSTAL BAR HONEY MELON redefines disposable vaping. It marries aesthetics with functionality, featuring mesmerizing iridescent shades and a sleek crystal-ice design. Lightweight yet impactful, each puff emanates a soft glow from its base. Beyond its looks, this vape powerhouse boasts a 500mAh battery, a 1.5ohm coil, and is preloaded with 1.6ml of premium e-liquid. The e-liquid, enhanced with a nicotine salt formula, guarantees swift nicotine absorption and a buttery throat hit.
Additional information
| | |
| --- | --- |
| BRAND | SKE CRYSTAL BAR |
| TASTE | FRUITS, MELON, HONEY |
| QUANTITY | 1 Switch |