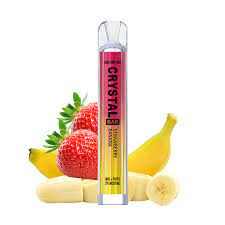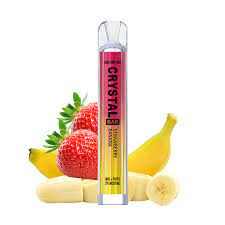 SKE CRYSTAL BAR STRAWBERRY BANANA
The SKE CRYSTAL BAR STRAWBERRY BANANA offers an enchanting Strawberry Banana flavor, combining luscious strawberries with creamy bananas. This disposable vape is designed for those on the move, ensuring a delightful, smooth draw with every puff. The automatic inhale activation of SKE's Crystal Vape Bar makes vaping straightforward without any complex systems. When inhaled, it gives a subtle vapor amount, ideal for an MTL experience akin to traditional cigarettes. Its use of salt nicotine ensures a smooth throat hit and rapid nicotine absorption for quicker satisfaction.
Characteristics:
Capacity: 2ml
Puffs: 600 approx.
Nicotine: 20mg
Flavor: Strawberry Banana
Description
Additional information
Description
SKE's CRYSTAL BAR STRAWBERRY BANANA stands out with its luminous crystal-clear tube design that illuminates upon use. This lightweight disposable device is powered by a robust 500mAh battery. It comes in a 20mg nicotine salt strength, encased with a sleek, ergonomic mouthpiece for consistent, enjoyable draws. Designed for both new and experienced vapers, the Crystal Vape Bar is the ultimate choice for convenience and simplicity.
Additional information
| | |
| --- | --- |
| BRAND | SKE CRYSTAL BAR |
| TASTE | BANANA ICE, BERRY, STRAWBERRY |
| QUANTITY | 1 Switch |