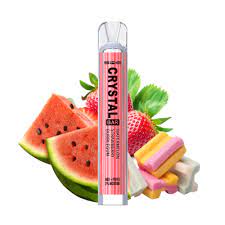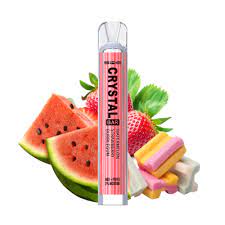 SKE CRYSTAL BAR WATERMELON STRAWBERRY BUBBLEGUM
The SKE CRYSTAL BAR WATERMELON STRAWBERRY BUBBLEGUM Vape flavor captures the essence of juicy watermelon and ripe strawberries, offering a vibrant vaping experience. This delectable combo stands as a refreshing highlight in the SKE Crystal Vape bar collection. Designed for utmost convenience, every SKE Crystal Bar Vape boasts automatic inhale activation, eliminating complex setups. Its production of subtle vapor ensures an authentic MTL (Mouth To Lung) experience, mirroring the sensation of traditional cigarettes. Enhanced with salt nicotine, users are promised a swift and smooth throat hit for instant satisfaction.
Characteristics:
Capacity: 2ml
Puffs: 600 approx.
Nicotine: 20mg
Flavor: Watermelon and Strawberry Bubblegum
Description
Additional information
Description
Housed in a luminous crystal-clear tube that lights up with each draw, the SKE CRYSTAL BAR WATERMELON STRAWBERRY BUBBLEGUM is a sleek disposable vape device, perfect for both newcomers and veteran vapers seeking a hassle-free alternative. It's powered by a durable 500mAh battery paired with a 1.5ohm coil, ensuring a consistent and delightful MTL session.
Additional information
| | |
| --- | --- |
| BRAND | SKE CRYSTAL BAR |
| TASTE | BERRY, BUBBLEGUM, STRAWBERRY, WATERMELON |
| QUANTITY | 1 Switch |