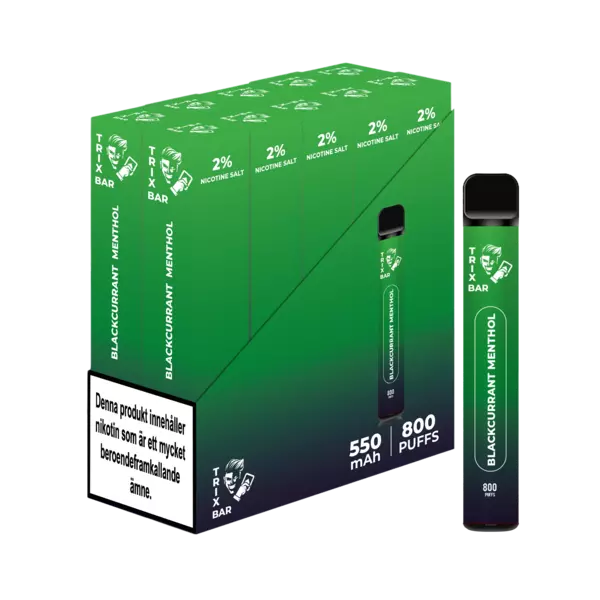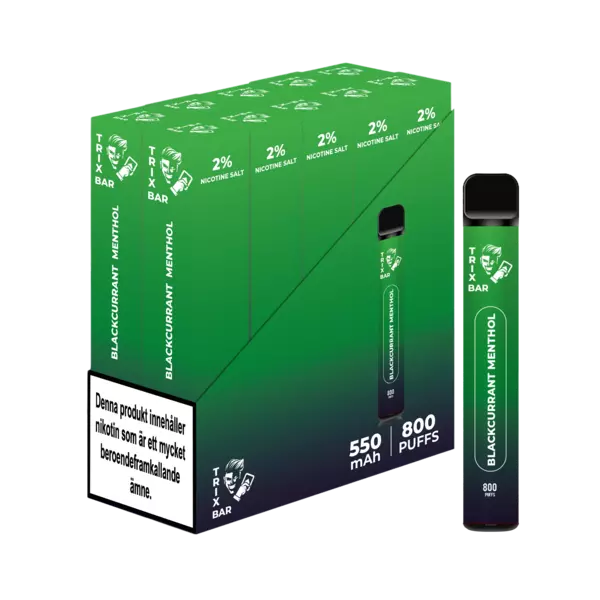 TRIX BAR BLACKCURRANT MENTHOL
Indulge in the enticing blend of blackcurrant and menthol with Trix Bar Blackcurrant Menthol, a single-use vape that provides approximately 800 puffs. Powered by a robust battery and filled with 2 ml of flavored E-liquid, this vape offers a consistent taste throughout usage. Activate the vape simply by inhaling from the mouthpiece, and no prior experience with Disposable Vapes/E-cigs is required. Discover the invigorating combination of fruit and mint in each puff.
Description
Additional information
Description
Trix Bar Blackcurrant Menthol is part of the Trix Bar  range, which features a variety of flavors, each capable of delivering up to 800 puffs, thanks to its powerful battery. Designed and developed in Iceland, Trix Bar 800 emphasizes durability and unique flavor profiles. Whether you're a nicotine user seeking a high-quality, affordable nicotine product, Trix Bar  is an excellent choice. Enjoy the exceptional taste experience in every puff.
Taste: Fruit, Mint
Puffs: approx. 800 pcs
Nicotine: 20 mg/ml (2%)
E-liquid: 2 ml
Battery: 550mAh
Additional information
| | |
| --- | --- |
| Weight | 1 kg |
| QUANTITY | 1 Switch |