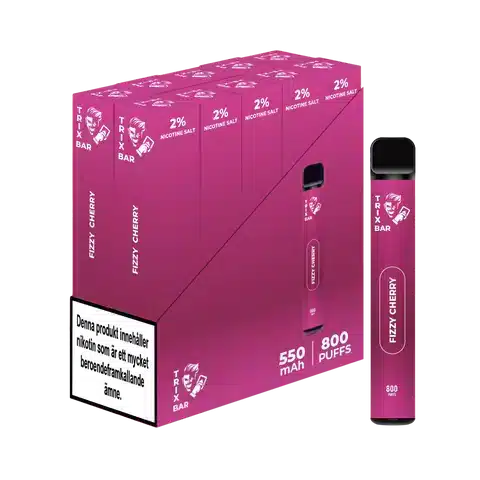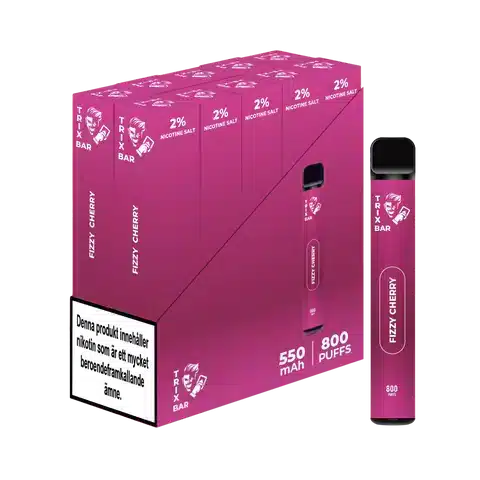 Indulge in the refreshing taste of TRIX BAR FIZZY CHERRY, a disposable vape/e-cigarette that provides approximately 800 puffs. The powerful battery ensures a consistent flavor experience from the first to the last puff. With its cherry drink flavor, this vape is activated by inhaling from the mouthpiece, making it suitable for beginners. TRIX BAR FIZZY CHERRY offers a high-quality nicotine product at an affordable price for long-lasting product life and exceptional taste.
Description
Additional information
Description
Trix Bar offers a dozen flavors, including the refreshing Fizzy Cherry. Each disposable vape in the Trix Bar series provides approximately 800 puffs, thanks to its powerful battery.Trix Bar prioritizes long product life and unique flavors. Whether you're a seasoned vaper or new to the experience, TRIX BAR FIZZY CHERRY delivers a satisfying cherry drink flavor.
Taste: Cherry
Puffs: approx. 800 pcs
Nicotine: 20 mg/ml (2%)
E-liquid: 2 ml
Battery: 550mAh
Additional information
| | |
| --- | --- |
| Weight | 1 kg |
| QUANTITY | 1 Switch |
| TASTE_SWITCH | FRUIT |