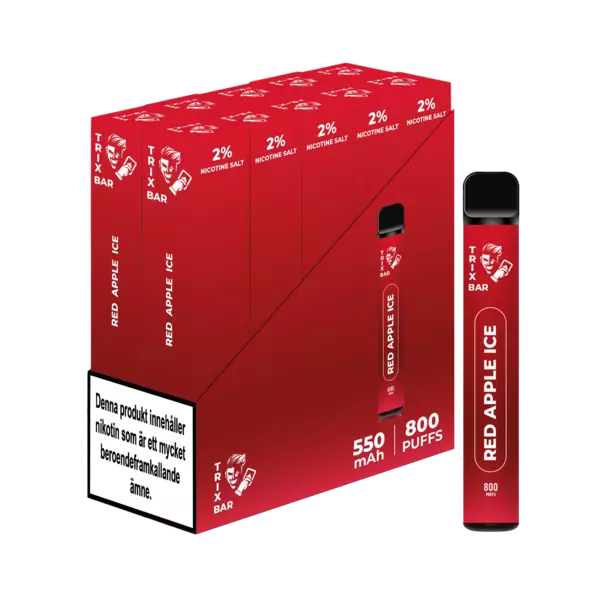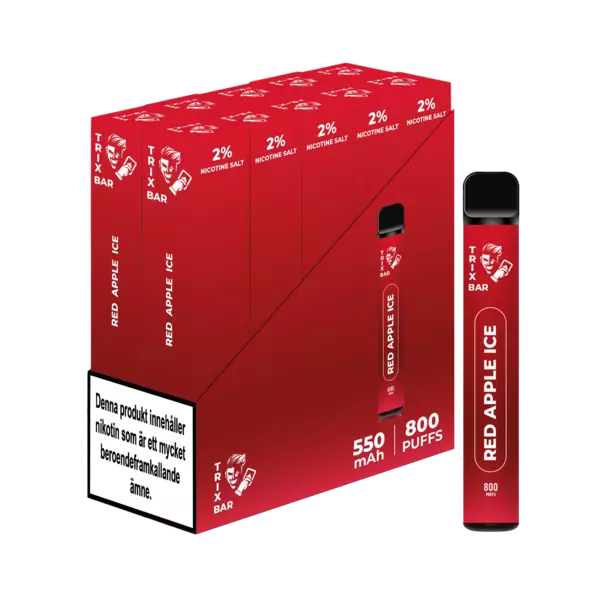 Experience the refreshing flavor of red apples with a hint of menthol in Trix Bar Red Apple Ice. This disposable vape offers approximately 800 puffs, thanks to its powerful battery. The flavor remains consistent from the first puff to the last, ensuring a delightful taste throughout your vaping session. Activate the device by simply inhaling from the mouthpiece, making it accessible to both novice and experienced vapers. Indulge in the unique and enjoyable flavors offered by Trix Bar 800, designed and developed in Iceland for a satisfying and long-lasting vaping experience.
Description
Additional information
Description
Trix Bar 800 offers a wide range of flavors, including the refreshing Red Apple Ice. With its powerful battery, each device can provide up to 800 puffs, allowing for extended enjoyment. Designed and developed in Iceland, Trix Bar 800 focuses on creating products with a long product life and unique flavor combinations. This disposable vape is suitable for nicotine users who seek high-quality nicotine products at an affordable price. Choose Trix Bar Red Apple Ice for a refreshing fruit flavor with a menthol twist. Trust in the quality and innovation of Trixbar Int.Corp, the manufacturer behind this exceptional vaping product.
Taste: Fruit, Menthol
Puffs: approx. 800 pcs
Nicotine: 20 mg/ml (2%)
E-liquid: 2 ml
Battery: 550mAh
Additional information
| | |
| --- | --- |
| Weight | 1 kg |
| BRAND_SWITCH | TRIX |
| QUANTITY | 1 Switch |