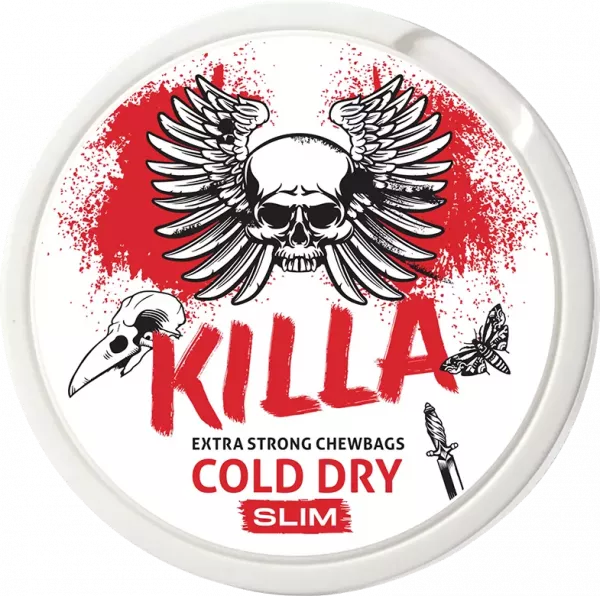 KILLA COLD DRY CHEWBAGS SLIM
Killa Cold Dry Chew bags Slim! Its slim and discreet chew portions deliver extremely strong nicotine kicks together with a cool and refreshing mint flavour.
Its white portions have dry surfaces, which ensures that they drip minimally. This minimal amount of drip lengthens in turn their stimulating and refreshing release of both flavour and nicotine.
Portion size: 0,7g
Nicotine: 16mg/1gram
Nicotine per portion: 11.2mg
Portions per can: 20 pc.
Description
Additional information
Description
KILLA COLD DRY CHEWBAGS SLIM Extra Strong in our range – with tobacco like real Swedish Snus and in slim bags. The ice-cold mint flavour in combination with the high nicotine content creates a special chewing tobacco pleasure. In dry portions with a dry bag surface for longer enjoyment.
Powerful but well-rounded and flavourful chewing tobacco blend with clear and cooling flavours of real mint oils.
KILLA COLD DRY CHEWBAGS SLIM Extremely strong nicotine experience in moistened chewing portion bags and with lower tobacco moisture. Runs even less than regular White bags – and keeps the flavour even longer.
Regular size for that well-known feeling behind your lip.
Additional information
| | |
| --- | --- |
| Weight | 1 kg |
| Dimensions | N/A |
| CHEW BAGS | KILLA |
| FORM | SLIM |
| QUANTITY | 1 Can, 10 Cans, 1 Box (240 Cans) |
| NICOTINE LEVEL | 16MG/G |
| TASTE | COLD DRY |