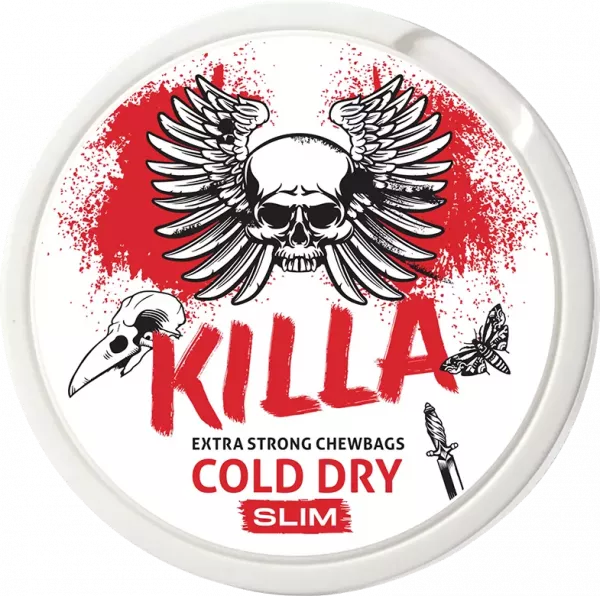 KILLA COLD DRY CHEWBAGS SLIM
Experience even more pleasure and comfort with Killa Cold Dry Chewbags Slim.
This product is a real hit, giving a refreshing menthol kick and a slightly dry, but insanely satisfying aftertaste.
With it, you will discover a new level of sensation!
Portion size: 0,7g
Nicotine: 16mg/1gram
Nicotine per portion: 11.2mg
Portions per can: 20 pc.
Description
Additional information
Description
Killa Cold Dry Chewbags Slim is a top product that provides an extremely strong nicotine experience in moistened chewing portion bags and with lower tobacco moisture. It gives an extraordinary freshness and a heavenly sensation of coolness 🌬️
The mint flavor provides a long-lasting, refreshing aftertaste, and the product itself consumes even less than regular. High➕ Benefit —> Killa 💯
Killa Cold Dry is very popular. It satisfies millions of people in different countries. Its products are created on a plant basis and are known for their high quality, organicity, and a huge palette of flavors. See for yourself 🌟
Additional information
| | |
| --- | --- |
| Weight | 1 kg |
| Dimensions | N/A |
| CHEW BAGS | KILLA |
| FORM | SLIM |
| QUANTITY | 1 Can, 10 Cans, 1 Box (240 Cans) |
| NICOTINE LEVEL | 16MG/G |
| TASTE | COLD DRY |