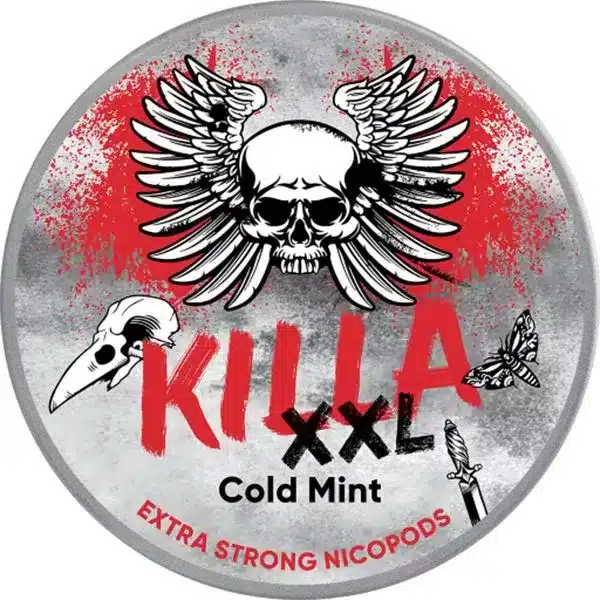 KILLA COLD MINT EXTREME XXL
KILLA COLD MINT EXTREME XXL you can expect a strong nicotine kick. The fresh taste of mint with a small touch of menthol.
This version comes packed with 30 pouches instead of the normal 20 pouches. The slimmed all-white portions sit discreetly under your lip and give a low drip.
Portion size: 0,8g
Nicotine: 16mg/1gram
Nicotine per portion: 12,8mg
Portions in one package: 30pc
Description
Additional information
Description
Killa Cold Mint XXL – The Killa cold mint you usually have, here with 30 pouches per can! This all-white tobacco-free nicotine pouch comes from the killapods family. In slim pouches that fit discreetly under your lip, this will give you a breath-freshening flavour of Menthol.
Killa extra strong with mint flavour in a new XXL package with 30 pouches!
Every lover of mint flavours will surely like to try Killa cold mint. We also recommend Killa cold mint as an alternative to Siberia. The small, thin pouches hold comfortably under the lip and are much more discreet and cleaner than with classic chewing tobacco. Great for experienced users or addicted smokers.
How to use Nicopods
Time of action 5-30min A plate for resorption, on a plant-based basis, to fight the smoking habit is not a medicine.
Do not consume: Persons under the age of 18, pregnant, and people with high sensitivity to nicotine.
Use: lay behind the upper lip for 5-30 minutes.
Then spit it out without swallowing.
Use no more than one sachet for 2 hours.
NOT A TOBACCO PRODUCT
Additional information
| | |
| --- | --- |
| Weight | 1 kg |
| Dimensions | N/A |
| BRAND | KILLA |
| TASTE | COLD MINT |
| NICOTINE LEVEL | 16MG/G |
| HUMIDITY | 60% |
| SALT | 3% |
| QUANTITY | 1 Can, 10 Cans, 1 Box (240 Cans) |