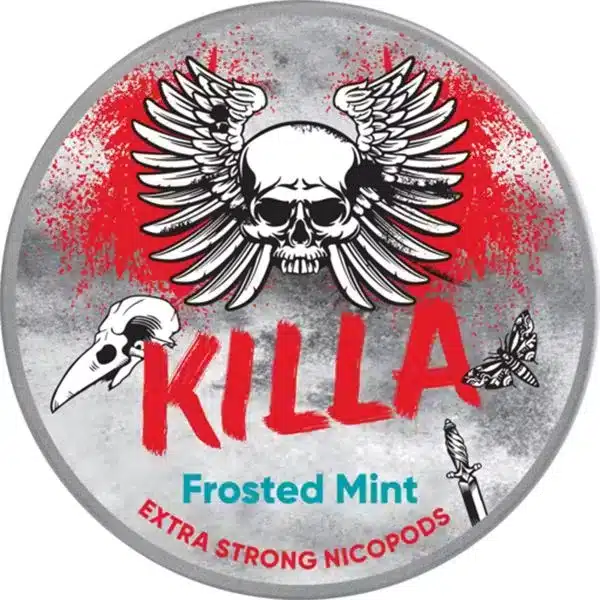 Killa Frosted Mint is one of the most popular nicotine pouches available, by far one of the most popular nicotine pouches we are aware of, and is widely distributed.
Killa Frosted Mint range is mainly used by the very experienced nicotine pouch and Suns user who likes stronger nicopods. Don't be fooled by the mg content of Killa, the formula of Killapods has been known for years for its very powerful kick.
Portion size: 0,8g
Nicotine: 16mg/1gram
Nicotine per portion: 12,8mg
Portions in one package: 20 pc
Description
Additional information
Description
Killa Frosted Mint is the number one nicotine pouch on the market in the segment around 16 mg/g, by excellence, these are one of the best-selling nicotine kicks.
KILLA Frosted Mint is the new nicotine pouch from Killa with the well-known taste of mint. This flavor is certainly the best-selling flavor in the nicotine pouch sector. Because of the ice-cold minty taste, many Suns users say it gives them an extra fresh burn!
How to use Nicopods
Time of action 5-30min A plate for resorption, on a plant-based basis, to fight smoking habit, is not a medicine.
Do not consume: Persons under the age of 18, pregnant and people with high sensitivity to nicotine.
Use: lay behind the upper lip for 5-30 minutes. Then spit it out without swallowing. Use no more than one sachet for 2 hours.
NOT A TOBACCO PRODUCT
Additional information
| | |
| --- | --- |
| Weight | 1 kg |
| Dimensions | N/A |
| BRAND | KILLA |
| TASTE | FROSTED ICE, MINT |
| NICOTINE LEVEL | 16MG/G |
| HUMIDITY | 60% |
| SALT | 3% |
| QUANTITY | 1 Can, 10 Cans, 1 Box (240 Cans) |